Six Exciting Amenities Offered at Millennium Apartments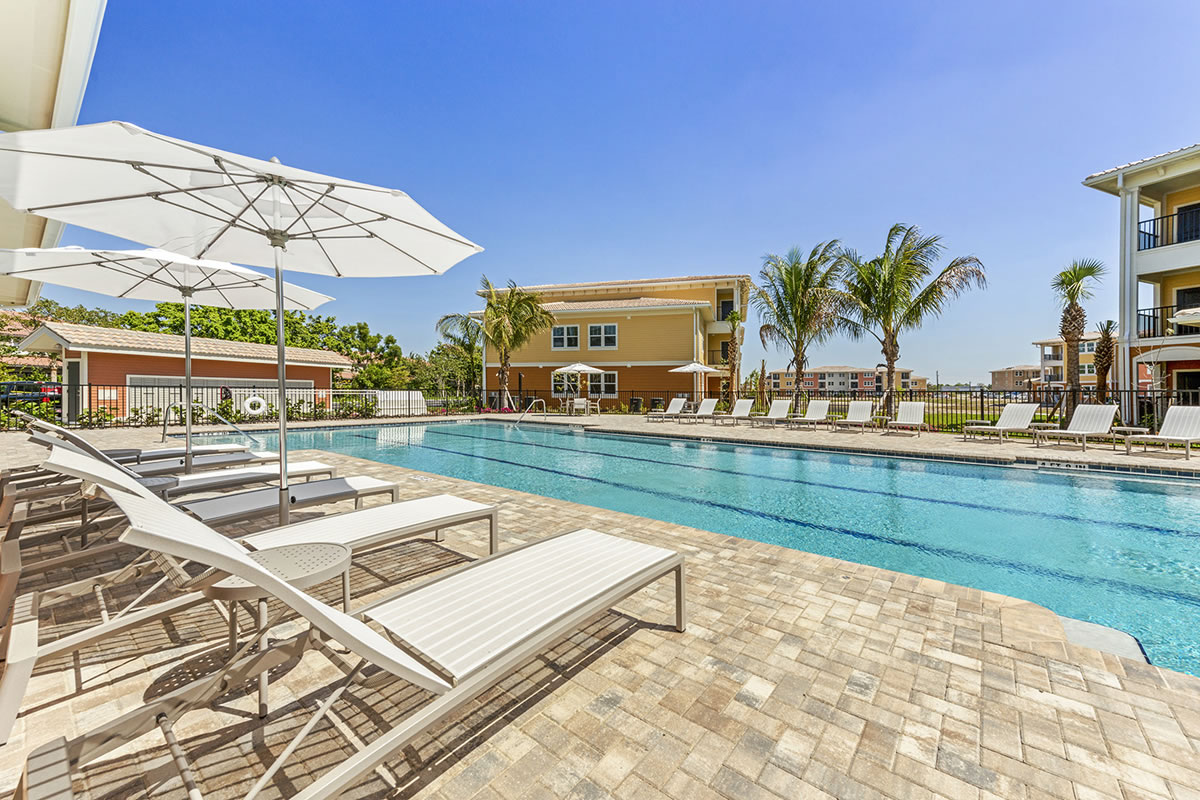 Are you looking to rent an apartment that has many amenities to enhance your lifestyle? Do you want to live somewhere that you do not have to worry about property maintenance but get to enjoy all the perks? This sounds like you would enjoy living at Millennium Apartments in Ft Myers, FL. Our apartments are home to many renters of all ages. We offer our residents a community-like apartment complex that is equipped with many amenities in both the units and the common grounds. These are some of the amenities offered at Millennium Apartments.
Swimming Pools
Our swimming pool is a large pool that makes it possible for swimmers and loungers to enjoy. Many people will lounge poolside on one of our comfortable chaise lounge chairs, while others may want to exercise by swimming laps in the large pool. Whether you are looking to cool off or just get a suntan, you will love the swimming pool at our apartments.
Fitness Center
Get excited, because when you live here, you have a chance to live a healthy lifestyle without the hassle of joining a gym. Our residents have access to the state-of-the-art fitness center with many different workout machines that promote strength, endurance, and flexibility.
In-Unit Laundry
There is nothing as sweet as in-unit laundry. Climbing up and down many flights of stairs with a heavy laundry basket is a thing of the past when you live at an apartment complex with washers and dryers in each unit. Because of this, our apartments are all equipped with in-unit laundry to make it easier for our residents.
Clubhouse
Do you want somewhere to host an event or party? Our apartments offer a clubhouse that our tenants can rent out when they want to host a larger get-together. This space allows you to have a fully-functional kitchen, TV, and dining space so that you can enjoy a Sunday dinner or watch some football with the entire extended family.
On-Site Storage Units
If you have a lot of stuff, do not worry. We also offer some on-side storage units, making it possible for renters to keep their belongings nearby. This saves them the hassle of having to drive to a different storage location when they are looking for something in particular.
Pet-friendly Amenities
Pets are family too, and we understand that. Many young people enjoy spending their time with dogs and cats, and they will not be willing to give this up to rent an apartment. When you rent with us, you will not have to give up your pet or consider any other living arrangements. Our pet-friendly features make it great for the both of you to call this place your home.
These are some of the most popular amenities that make Millennium Apartments in Ft Myers, FL a great place to call home. If you are looking for a rental property that you will love, contact us to schedule your tour of our sprawling apartment complex today.